Found in Lemoore, CA at this 1894 building is a Cyrus Noble (Small Batch Bourbon Whiskey) ghost sign, opposite of it is a ghost sign on the other side of the building is for Can't Bust 'Em Overalls created by Heynemann & Co.

---
Throughout the United States (and also in different cities around the world), one can pass by an old building and to its side, still see the remnants of old hand-painted signs from yesteryear and often painted on brick.  These advertisements are referred to as "ghost signs".
And to this day, many ghost signs created from the 1890s to the 1960s can still be found.
While some cities and towns work to preserve the artwork, unfortunately many of the buildings are in rough shape and are torn down.
I grew up seeing this artwork and to be truthful, I never really cared until I became an adult and started to learn about the companies that were featured on the ghost sign.
So, I make an effort to take photos of ghost signs when I travel to different cities.
But in the town I grew up in, I was fascinated by the "Can't Bust 'Em Overalls" with its "Union Made" monicker and rooster logo for its work clothes that was made by San Francisco-based workwear company, Eloesser-Heynemann Company (founded in 1851).
Back in 1851, Leonard D. Heynemann began his business in London before coming to San Francisco.  The would import goods and working with Morris Pick, they formed a company known as "Heynemann, Pick & Co." and would specialize in linen, silk, velvet, gloves, carpets and blankets.
By 1863, Herman Heynemann would join the company and Arthur Eloesser, who was only 15-years-old at the time, would work for "Heynemann Ando Co." and the company would later be known as "Heynemann & Co.".
By 1871, 16-year-old Manfred Heynemann, eldest son of Herman Heynemann would join and he along with Arthur Eloesser would expand the company to Arizona, Montana and New Mexico.  And by the 1890's, the company would start focus on workwear.
---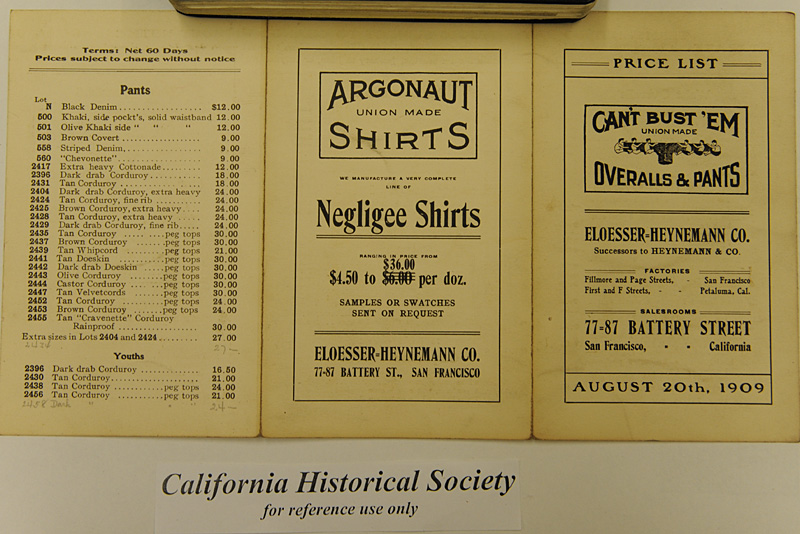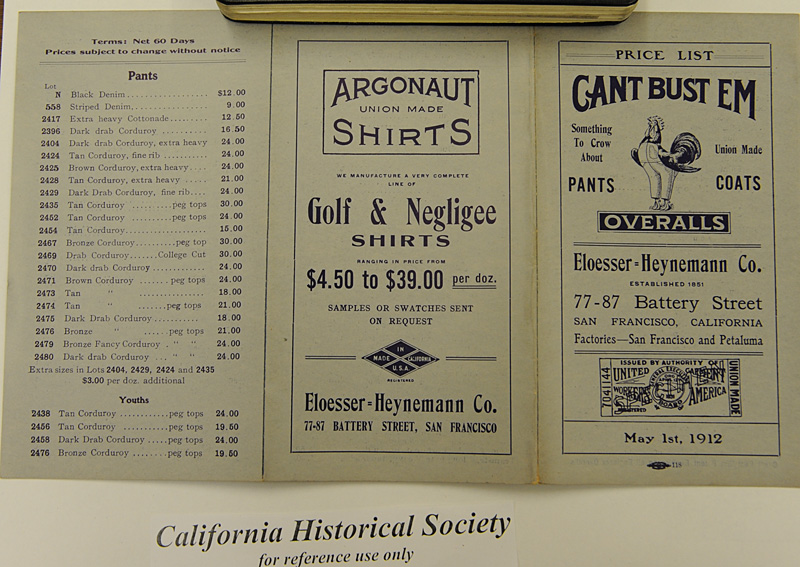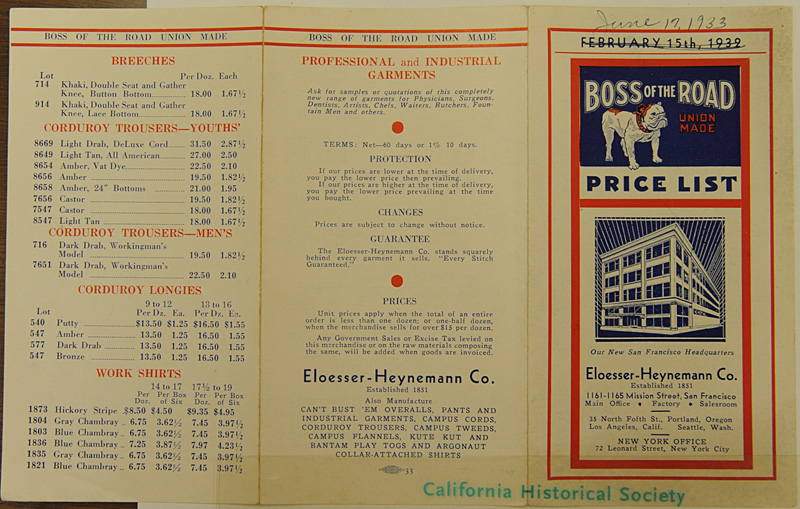 ---
The company would file a trademark in 1909 for "Can Not Bust 'em" (it's name was first used in 1876).
Unfortunately, the main building burned down in 1906 due to the great San Francisco earthquake but they would revive their new headquarters in Battery Street and in 1933, move to Mission Street.  That year, Arthur Eloesser, the president of the company and started with the company since he was 15-years-old, would pass away.  His son, Herbert Eloesser would become the next president of the company.
Eloesser-Heynemann Co. was later acquired back in 1946 by H.D. Lee Co., Inc. (Lee jeans which continues to exist today) and as for the old workman's clothing, they are considered vintage and many vintage denim or clothing collectors try to acquire these to this day.
While one can find more information on Eloesser-Heynemann Co. at the California Historical Society on Mission St. in San Francisco, for those who have a interest in ghost signs, I recommend joining the Ghost Signs group on Flickr and also checking out the various ghost signs around the world.
California Historical Society images are from the Japanese website Workers
---
---