In America, we think of pancakes as breakfast food and food we make at home early in the morning or go to a place like IHOP or Denny's breakfast.  Typically, we are used to the thin pancakes that we put butter and syrup.
But in Japan, pancakes are seen as a desert and one of the most popular restaurants known for serving the best pancakes is Rainbow Pancake in Harajuku.
But before I go into what kind of pancakes you can find at the restaurant, just know one thing that you'll need to get used to seeing…
And that is lines…
Rainbow Pancake is quite a busy place and people line up early in the morning in the afternoon and so it's somewhat of a gamble of when to go.  Some recommend in the afternoon, some recommend getting in line early.
As for the pancakes…keyword is "fluffy".  Another word one can used to describe the pancakes and that word is "Delicious!".
Why fluffy?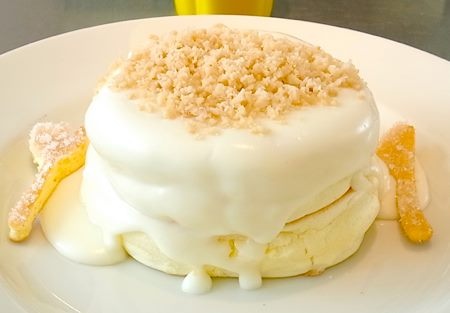 And as you can see, Rainbow Pancake has a way of styling their pancakes to offer them more as desert and what best than to have it located in the trendy Harajuku area.
For those going the first time, if I have to recommend one that is literally the bomb!, check out the macadamia nut pancake!
Rainbow Pancake is open from 10:00 a.m. to 6:00 p.m. and is closed on Tuesdays.  Visit their official website, their blog or their Facebook site for more information!
Food images courtesy of the Rainbow Pancake Facebook page and blog
---
---